Dark chocolate Gift Guide: The Best Dark Chocolate Gifts for Every Budget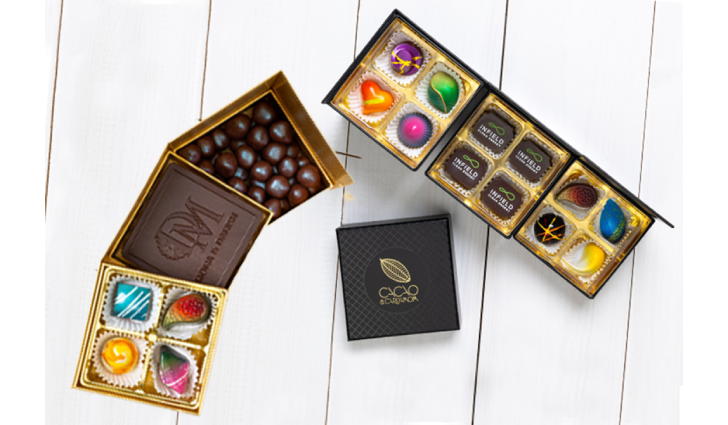 For the chocoholic in your life, a dark chocolate gift guide is the perfect way to make sure they get their fill of pleasure. A great way to find delicious treats that fit into any budget is overnight chocolate delivery in the USA. Whether you are looking for artisanal truffles, single origin bars, vegan selections, or something else entirely, there's something out there for every palate and pocketbook. Finding the perfect present has never been easier. Give your friends, family, and colleagues something to remember with overnight chocolate delivery in the USA today!
Dark Chocolate Almond Dragees - 
If you're looking for a delicious treat to order dark chocolate online in the USA, why not try dark chocolate almond dragees from Cacao and Cardamom? These decadent morsels feature premium dark chocolate surrounding roasted almonds, making them the perfect balance of sweet and crunchy. Made in the USA with organic ingredients, order dark chocolate online from Cacao and Cardamom to experience their unique flavor combination and unparalleled quality. Enjoy these exquisite delights by themselves or pair them with a cup of coffee for an indulgent snack or tea time treat.
Dark Chocolate Almond Spread - 
If you're looking to satisfy your sweet tooth with dark chocolate that is sure to impress, Cacao and Cardamom's Dark Chocolate Almond Spread is the perfect option for you. Combining rich dark chocolate and crunchy almonds, each jar contains a delicious burst of salty-sweet flavor. Whether spread on toast or used as a dip for fresh fruits and ice cream, this housemade almond butter will become an essential part of your pantry. Crafted with quality ingredients and without any additives or preservatives, dark chocolate gifts from Cacao and Cardamom are the perfect way to treat yourself.
Dark Chocolate & Orange Artisan Bar - 
Our dark chocolate & orange artisan bar is a perfect gift for dark chocolate lovers! This handcrafted dark chocolate experience is made with the finest Bolivian dark chocolate, harvested from wild cacao trees in the Amazon. Notes of lemon and grapefruit make for a truly unique flavor profile. The artisan bar is then studded with candied oranges, dehydrated oranges, and blood oranges to bring out the acidity and sweetness of the dark chocolate. Gluten free and vegan, this dark chocolate bar comes huddled in a decadent gift box - perfect for any special occasion.
Dark Chocolate Candied Orangettes -
If you're looking for the perfect dark chocolate-, citrus-, and cardamom-lover's gift basket, look no further than Dark Chocolate Candied Orangettes from Cacao and Cardamom. Handmade with organic oranges, these delectable treats are a combination of candied orange peel bites and dark Bolivian dark chocolate. And dark chocolate fans will especially love this treat; each orangette is coated in 68% dark chocolate for a luxurious taste experience. Whether you're looking for yourself or shopping for someone else, these dark chocolate tempered orangettes make a unique addition to any dark chocolate lover's arsenal.
Dark Chocolate Lover's Collection, 16 Pieces -
Our custom Dark Chocolate Collection is a perfect gift for those looking to indulge without all of the added sugar. Our unique flavors, such as Chipotle, Black Sesame Ginger, Speculoos, Garam Masala Pistachio, Cafe Latte, Turtle Caramel, Lychee Basil and Lavender, ensure everyone will find something they love. These flavors may shift based on availability and freshness but this custom
dark chocolate lovers collection
gift will guarantee your recipient satisfaction!
Share this