7 interesting ways to mix chocolate with other flavors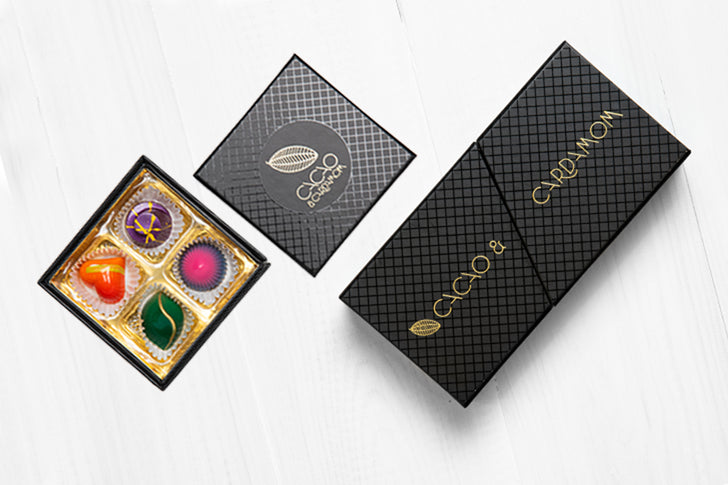 Chocolate and other flavors have long been a delicious combination in desserts and confections. Whether it's mocha cake, white chocolate peanut butter cups, or just a simple bowl of ice cream, combining chocolate with other flavors only amplifies its creamy goodness! But did you know that there are plenty more interesting ways to mix chocolate with other flavors for a unique twist? 
Here are seven creative ideas for mixing Chocolate that will have your taste buds dancing with delight.
Chocolate-Covered Fruit - If you want to combine two classic sweets into one indulgent treat, try covering your favorite fruits in melted chocolate. Strawberries and cherries are both great picks for this treat! For an extra flavor kick, add some ground cardamom to the melted chocolate before dipping the fruit.
Related products - 
Strawberry Pop-Rocks Mendiants
Cinnamon Hot Chocolate - A warm cup of hot cocoa is always a comforting way to end the day, but why not make it even more special by adding a hint of cinnamon and cardamom? To make this delicious concoction, simply heat up some milk with dark chocolate chips and stir in ground cinnamon and cardamom until everything is blended together.
Cardamom-Spiced Brownies - Turn an ordinary batch of brownies into something extraordinary by adding a pinch of cardamom to the batter before baking them up in the oven. The complex flavor profile created by combining cacao with cardamom might be too good to resist!
Chocolate Fondue - A fondue party is sure to please guests of any age group; however adding a pinch or two of cardamom will take things up a notch! Create an amazing centerpiece at your next party by melting down dark chocolate chips in cream then stirring in some freshly-ground cardamom for amped up flavor that'll leave everyone wanting more!
Chocolate Chip Muffins – Who can resist moist muffins loaded up with semi-sweet chocolate chips? Jazz up this classic snack food by adding ground cardamom into the batter before putting these treats into the oven for baking—you won't regret it!
Cardamom Pavlova – For those looking for something more decadent than just regular everyday dessert items, consider making a pavlova using cacao powder and freshly-ground cardamom instead of traditional sugar when making the meringue topping. Not only will this create a lovely balance between sweet and spicy, but it's also sure to wow any dinner guests who may be sticking around late enough to see what dessert has been prepared!
White Chocolate Bark – Make your own version of white chocolate bark but give it some extra oomph by stirring in crushed pistachios and slivers of crystallized ginger along with some ground cardamom when melting down white chocolate chips on top of wax paper layered over cookie sheets. Then break apart large chunks once hardened which can be served as individual pieces or given as gifts during special occasions like birthdays or holidays! 
No matter what type of dish you choose to make using these two ingredients together, mixing cacao and cardamom can take your dessert game from "good" to "gourmet level" without too much effort at all! So get creative when concocting new recipes–your taste buds (and anyone else who gets lucky enough to try out your experiments) will thank you later
Chocolates are amazing on their own, but they can be even better when combined with other flavors. If you're looking for a new way to enjoy chocolate, consider trying one of these seven flavor combinations. And if you want to explore even more delicious possibilities, visit our website
Cacao and Cardamom
for a wide selection of gourmet chocolates.
Share this