Personalizing Your Gourmet Chocolate Gift Basket for a Unique and Memorable Present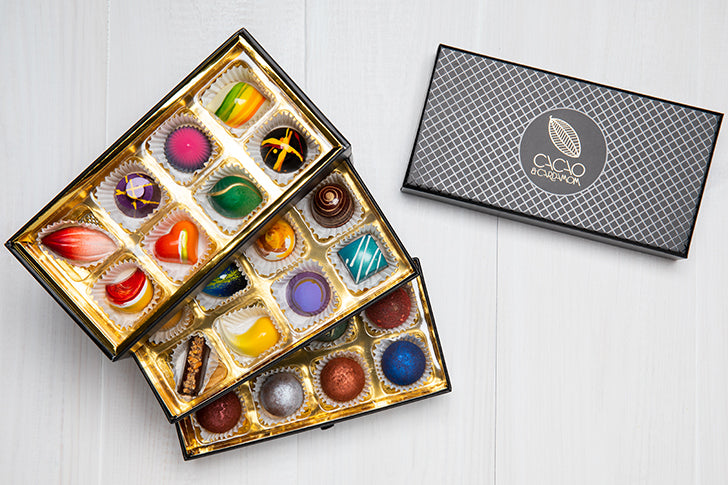 Personalizing Your Gourmet Chocolate Gift Basket: Tips for a Memorable Present
Are you struggling to find the perfect gift for your chocolate-loving friend or family member? Look no further than a personalized gourmet chocolate gift basket! With a little creativity and attention to detail, you can create a unique and memorable present that your recipient will appreciate.
To get started, begin by exploring the different types of gourmet chocolates available. Consider the recipient's preferences and dietary restrictions to choose chocolates that will suit their tastes. For example, if they enjoy dark chocolate, consider a gourmet dark chocolate gift basket. Be sure to choose chocolates made from high-quality ingredients and free of artificial flavors.
Here are some tips to personalize your gourmet chocolate gift basket:
Consider the occasion - Choose chocolates and flavors that are relevant to the occasion. For example, if it's a birthday gift, opt for chocolates with fun and festive flavors like Ruby Raspberry and Coffee & Cardamom.
Add a personal touch - Make the gift basket extra special by adding a personalized note or customizing the packaging with a favorite color or design.
Mix and match - Combine different chocolates and flavors to create a unique and personalized assortment that reflects the recipient's preferences.
Go gourmet - Opt for high-quality, artisanal chocolates to elevate the gift basket from a generic present to a truly gourmet experience.
Next, add artisanal treats and accompaniments to the basket to enhance the experience. This might include complimentary treats like nuts, dried fruits, or caramels. You can also explore unique and locally sourced delicacies to add a special touch. Don't forget to incorporate gourmet spreads or jams for pairing with the chocolates.
At Cacao And Cardamom, we offer a wide range of gourmet dark chocolate gift baskets and chocolates in Houston. Our Two Tiered Gold Holiday Gift Box and C&C Signature Gift Bundle are some of our most popular picks for personalized gifts.
Customizing the presentation is also key to creating a memorable gift basket. Choose a suitable basket or container that your recipient can reuse, and decorate it with ribbons, bows, or personalized tags. Consider adding a handwritten note or customized message to make the gift even more special.
Including personal touches in the basket will also show your recipient that you went the extra mile for them. Add a personal favorite chocolate or nostalgic treat, or include a small gift or trinket that holds meaning for them. You can also incorporate elements that reflect their hobbies or interests to make the gift even more personalized.
At Cacao And Cardamom, we take pride in curating the finest and most distinctive collection of gourmet chocolates in Houston. Our chocolates are made using only the highest quality ingredients and crafted with the utmost care and precision. With our expertly crafted gourmet dark chocolate gift baskets, you can give a gift that is sure to be remembered and cherished.
Finally, packaging and delivery are important to ensure that the chocolates remain fresh and delicious. Choose a reliable delivery service or hand-deliver the gift, and add instructions for optimal storage or consumption.
In Houston, Cacao And Cardamom is a go-to destination for gourmet chocolate. Their selection of gourmet chocolate and artisanal treats is the perfect addition to any gift basket. Visit Cacao And Cardamom to create a memorable and personalized gourmet chocolate gift basket today!
Share this