Luxurious Chocolate Gift Ideas for an Unforgettable Eid al-Adha Celebration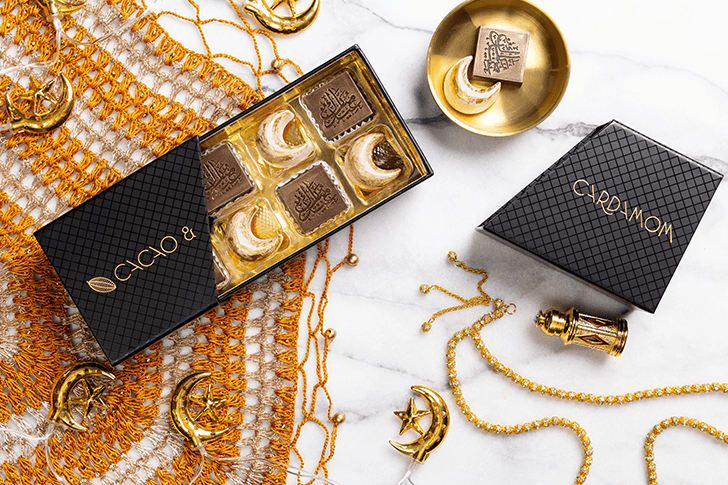 Luxurious Chocolate Gift Ideas for an Unforgettable Eid al-Adha Celebration
Eid al-Adha is one of the most important holidays in the Islamic calendar, celebrating the willingness of Prophet Ibrahim to sacrifice his son as an act of obedience to God. This holy occasion is marked by communal prayers, charitable giving, and gatherings with friends and family. To add a touch of sweetness to your Eid al-Adha celebrations, Cacao and Cardamom offers a range of exquisite chocolate gifts that are sure to make a lasting impression.
Eid Al Adha Chocolate Gift Box
Our Eid Al Adha Chocolate Gift Box is the perfect way to share the love with your family and friends. Featuring a selection of bon-bons, chocolate medallions, and chocolate-covered dates, this delectable gift box offers a variety of flavors and textures to tantalize your taste buds. Indulge in the sweet crunch of Honey Crunch, the fragrant notes of Rose Water Caramel, the rich depths of Turkish Coffee, and the nutty sweetness of Pistachio Halwa. Sink your teeth into the crisp bite of toasted almonds, the fruity burst of fig, the spicy warmth of ginger, and the citrusy tang of orange. And savor the soft, chewy goodness of chocolate-covered dates filled with toasted pistachios. Our Eid Al Adha Chocolate Gift Box is a true celebration of the festive spirit, bringing together the best of both worlds in a single box.
Eid Mubarak Chocolates
If you're looking for an even bigger surprise, our Eid Mubarak Three Tier Dozen is the perfect indulgence. With 12 pieces of our most decadent chocolates, this three-layer box is a feast for the senses. From exotic flavors like Saffron and Cardamom to classic favorites like Milk Chocolate and Dark Chocolate, our Eid Mubarak Chocolates offer something for everyone. Each piece is carefully crafted with the highest-quality ingredients, ensuring the perfect balance of taste, texture, and aroma. Whether you're looking to spoil your loved ones or treat yourself, our Eid Mubarak Chocolates are the perfect way to make a sweet impression.
How to Present Your Gifts in Style
To truly make your Eid al-Adha celebrations unforgettable, why not present your chocolate gifts in style? Cacao and Cardamom offers a range of elegant presentation options, including ribbon-tied boxes, exquisite wrapping paper, and personalized notes. With our help, you can make your chocolate gifts feel truly special and add a personal touch to your celebrations.
Make It Memorable with Personalized Notes
There's nothing quite like a heartfelt message to make your Eid al-Adha celebrations extra special. At Cacao and Cardamom, we offer personalized notes with each chocolate gift, allowing you to express your love and appreciation in your own words. Whether you're sending a message of gratitude, love, or celebration, our personalized notes are a truly meaningful way to make your chocolate gifts unforgettable.
The Benefits of Gifting Fair Trade Chocolate
At Cacao and Cardamom, we believe that chocolate should not only be delicious but also ethical and sustainable. That's why our chocolates are made with fair trade cocoa beans, ensuring that farmers receive a fair wage for their hard work. By giving fair trade chocolate, you can not only indulge in delicious treats but also make a positive impact on the lives of cocoa farmers and their families.
In conclusion, Eid al-Adha is a special occasion that calls for special treats. At
Cacao and Cardamom
, we offer luxury chocolate gift ideas that are sure to impress your loved ones. From elegant bon-bons to artisanal bars and personalized notes, we have everything you need to make your celebrations unforgettable. So why wait? Visit our website today and start indulging in the sweet taste of luxury!
Share this